Cathryn Boch
print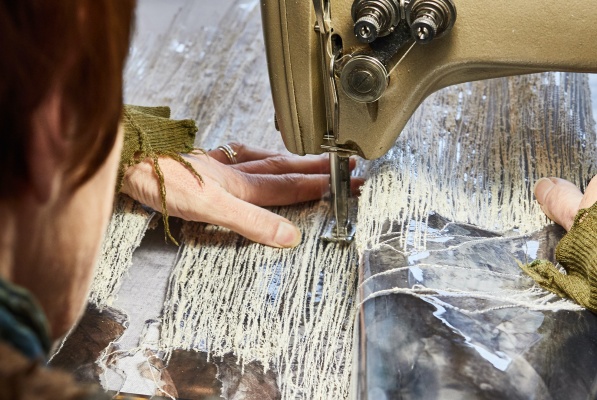 © Jean-Christophe Lett
"I'm leaving from where I am to meet the world."
Cathryn Boch doesn't leave the paper supports unharmed, she grabs them and mistreats them with the needle of a sewing machine, until they blister. At the same time, the fragility of the papers, the pierced tracing paper and the proliferation of threads make a changing environment appear. Cartographies, plans, topographic images, aerial photographs are the material sources of her work. She confronts territories and impermanence of borders, as well as social, political, and ecological concerns that are inscribed within them. In a relationship to the world that is situated, conjugated, and tied to the experience of mental space, the body-scapes here carry their own suture tissues. For Cathryn Boch, borders, demarcations of territory-migration-occupations-alterations are scars echoing the chaos of human and planetary metamorphoses to come.
Download the complete biographyBorn in 1968, Strasbourg, France
Lives and works in Marseille, France
Few Key Dates

1996
Graduate of the École supérieur des Arts Décoratifs of Strasbourg.
2006
Residency in Vilnius, Lithuania Grant from the CEAAC Art Center.
2009 Solo exhibition at MAMCO (Geneva, Switzerland).
2014 Drawing Now Award.
2017 Galerie Papillon publishes the first monograph of the artist.
2018 Residency at 3bisF in Aix-en-Provence.
2019 3rd solo show at Galerie Papillon and nominated for the 2020 edition of Women to Watch/Paper Routes organized at the National Museum of Women in the art in Washington.
2020 Solo exhibition at the Domaine de Kerguéhennec.


Among private and public collections : Cabinet d'Arts Graphique - Centre Georges Pompidou, FMAC (Fonds municipal de la ville de Paris), FNAC (Fonds national d'art contemporain), FRAC (Fonds régional d'art contemporain) PACA et Picardie, MAMCO Genève, Fondation Daniel et Florence Guerlain, Collection Antoine de Galbert.
Press extracts

"Adept of mixed techniques, the artist presents sewn pieces giving the impression of reliefs." Bernard Marcelis in The Art Newspaper France, may 2019
"At first glance, these works call for the caress of the eye and the hand. At second glance, they are full of historical and political concerns and allusions. Ambiguity is the strength of this work." Philippe Dagen in Le Monde, october 2016
"Cathryn Boch takes up the thread, guides us to new territories, crumpled, sanded, covered and repaired. Her new works have gained in density and intensity as well." Philippe Régnier in Le Quotidien de l'Art, october 2013

Solo exhibitions
---

2020
Solo show, Domaine de Kerguéhennec, Bignan

2019
Reverse, Galerie Papillon, Paris

2016
Monades, Galerie Papillon, Paris

2015
N 48°51' 47'' E 2° 21'24'', L'Observatoire, BHV Marais, Paris
N 43°18' 21.5'' E 5° 22'03.0'', Plateau expérimental, FRAC Paca, Marseille

2014
Parcours Saint Germain des Près, La Perla, Paris
Cathryn Boch, Galerie Sébastien Bertrand, Geneva, Switzerland

2013
N 48°51' 47'' E 2° 21'24'', Galerie Papillon, Paris

2012
Pudeur impudique, Galerie Sébastien Bertrand, Geneva, Switzerland

2010
Ent 10 12 9 lassen, Galerie Anne de Villepoix, Paris

2009
10 8 6 überholen, curator Christian Bernard as part of the cycle "L'espèce de chose mélancolie", MAMCO, Geneva, Switzerland

2008
Orienté dessin, Galerie Anne de Villepoix, Paris

2007
A chaque pas on trébuche..., Centre d'Art du CEAAC, Strasbourg

2006
Project room "Dessins", Galerie Anne de Villepoix, Paris
Basanaviviaus j-3, Ambassade de France, Vilnius, Lithuania

Group exhibitions
---
2022
A carte scoperte, Fondazione Museo Civico di Rovereto, Italy
Traverser la nuit. Works from the Antoine de Galbert collection, musée d'art, architecture et technologie, Lisbon

2021
Le Printemps de septembre, Toulouse

Patchwork, Le Radar, Bayeux
Elles dessinent, Museum of Vence, Vence

2020
4 solos 1 expo, Galerie Papillon, Paris

2019
Penser le paysage, Galerie d'art Albert Bourgeois, Fougères

Mare Nostrum. Identités méditerranéennes, Villa Datris, Espace Monte Cristo, Paris
Penser le paysage, Galerie d'art Albert Bourgeois, Fougères
Frontières plurielles, Centre d'art, Briançon
Tissage, Tressage, quand la sculpture défile à Paris, Fondation Villa Datris, Paris
Some Of Us, Kunstwerk Carlshütte, Budelsdorf, Germany
Souvenirs de voyage. La collection d'Antoine de Galbert, Musée de Grenoble, Grenoble

2018
Soft Power, Transpalette, Bourges

Border lines. From history to stories, Galerie expérimentale, CCCOD, Tours
Tissage, tressage, quand la sculpture défile, Fondation Villa Datris, L'Isle-sur-la-Sorgue
Ailleurs est ce rêve proche, Villa du Parc - centre d'art contemporain, Annemasse

Formes d'histoires, Les Tanneries - centre d'art contemporain, Amilly

2017
Paratissima13, Caserma La Marmora, Turin, Italy
Inextricabilia, enchevêtrements magiques, La Maison Rouge, Paris
Grand Trouble, La Halle Saint-Pierre, Paris

2016
Entre les lignes, Zone d'art, Strasbourg
Micromégas, Galerie de l'Etrave - espace d'art contemporain, Thonon-les-Bains
Le contemporain dessiné, Musée des Arts décoratifs, Paris
198920072016, Galerie Papillon, Paris

2015
Objets corporels, Arsenal de Saint-Jean-des-Vignes, Soissons
Soit 10 ans, États intérieurs, Galerie Christian Berst, Paris
Le temps de l'absolu, Galerie C, Neuchâtel, Switzerland
Feel Paris, Lelege Art Space, Beijing, China
Work on paper, Galerie Sébastien Bertrand, Geneva, Switzerland

2014
Le mur, Collection Antoine de Galbert, La Maison Rouge, Paris,

Choices, Palais des Beaux-Arts, Paris

Des mondes dessinés - Acquisitions récentes 2009-2013 volet 3, Frac Picardie, Amiens

2013
Dessins – Faux dessins, Galerie Papillon, Paris
Pré-vision du ciel - l'Appareil - Relevé, Archives départementales des Bouches-du-Rhône, Marseille
Donation Fondation Daniel et Florence Guerlain, Centre Pompidou, Paris
L'arbre qui ne meurt jamais, Espace d'art contemporain du Théâtre des Sablons, Neuilly-sur-Seine

2011
Résonance / Dissonance, Galerie Anne de Villepoix, Paris
Acquisitions récentes du Cabinet d'Art Graphique, Centre Pompidou, Paris

2010
Elles@centrepompidou, Artistes femmes dans les collections du Centre Pompidou, Centre Pompidou, Paris

2009
En découdre, Fondation Écureuil, Toulouse
Les petites filles modèles, Centre d'Art Le Lait, Castres

2008
Éloge du dessin, La Halle Saint-Pierre, Paris
Subtil Textile, Galerie des Galeries, Galeries Lafayette Paris, Paris
L'eau et les rêves, Galerie Kamchatka, Paris

2002
Est-ce que pour toi aussi c'est pareil ?, Galerie La Chaufferie, Strasbourg

2001
Happy Lady, Galerie Màrio Sequeira, Braga, Portugal
1+1+1+1++1… Pique Nique, Musée d'Art Moderne de Sintra, Portugal

2000
Prime Time. "1+1+1+1..., Commissaire Pascal Neveux, FRAC Alsace, Sélestat


Awards
---

2014
Drawing Now Award2014


Collections
---

Fonds municipal de la ville de Paris, FMAC
Fonds régional d'art contemporain, FRAC Picardie
Fonds régional d'art contemporain, FRAC PACA
Fondation Daniel et Florence Guerlain
MAMCO Genève
Fonds national d'art contemporain
Cabinet d'Art Graphique, Centre Georges Pompidou
Collection Antoine de Galbert


Residencies & grants
---

2019-2020
Residency at Domaine de Kerguéhennec, Bignan


2018-2019

Residency at 3bisf, Aix-en-Provence

2015

Residency at Moly-Sabata, Fondation Albert Gleizes, Sablon

2009, 2010, 2013

Residency at L'atelier Michel Fedoroff, Bargemon

2009

Residency Les Ateliers des Arques, Les Arques

Residency at Kronica Art Center, Bytom, Poland

Organisation Polart et Ars Caméralis, Katowice, Poland

2006 - 2007

Residency Cité-culture at la Cité Internationale Universitaire de Paris

2006

Residency at Vilnius, Lithuania

CEAAC Art Center grant, European exchange program

2003

Creation Grant, DRAC, Alsace

2001

Residency Aceca Lézard, as part of the exhibition project in Braga and at Musée d'Art moderne de Sintra, Lisbon, Portugal

2000

Residency Aceca Lézard, Lisbon, Portugal

1998

Grant from the city of Strasbourg, Residency at the CEAAC Art Center, Strasbourg

1996

Individual Aid to the Creation, DRAC Alsace

1995

Residency supported by the École Supérieure des Arts Décoratifs de Strasbourg, Lisbon, Portugal
Studies
---

2002 - 2003
Training of Plasticians Intervenants (C.F.P.I), École Supérieure des Arts Décoratifs de Strasbourg
1996
National Superior Diploma of Plastic Expression - Art option, École Supérieure des Arts Décoratifs de Strasbourg
1994
National Diploma of Plastic Arts - Art option, École Supérieure des Arts Décoratifs de Strasbourg
1990
D.E.U.G. of Art History, University of Strasbourg