Gaëlle Chotard
print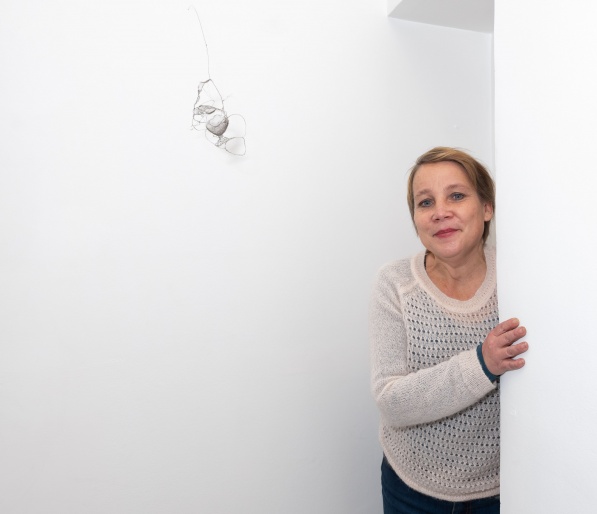 "My works express emotions, landscapes, the mystery of being alive."
Between drawing and sculpture, Gaëlle Chotard's artistic research dialogues with the intimate and the strange. Maintaining a determined relationship with space, she considers it as a blank page on which she makes her works visible while underlining the emptiness and the shadows which constitute them. Resulting from a long work of the line in her drawing books, her meticulous and phantasmatic works woven of metallic wires, subtly mix volumes, lines and movements.
By intertwining lines of metal or lines of drawings, Gaëlle Chotard creates works that come to life in balance. Like an experience of contemplation, she draws landscapes, the feeling of strata, or faults.
Inspired by the drawings of Victor Hugo and Caspar Friedrich, color has recently appeared in her work: sepia, bistre, sanguine or even sienna invite themselves, revealing breakthroughs of water, sky, fire, blood, rust and light.
Thanks to a tightrope walker's gesture, Gaëlle Chotard plays with the malleability of materials and draws in the space, dense but also fragile, light and transparent organic forms.
Between jumble, tears, branches or even bleeding, her works invite to a mental journey.

Download the complete biography


Born in 1973, Montpellier, France
Lives and works in Nogent-sur-Marne, France

Few key dates
1998
Graduated from École Nationale Supérieure des Beaux-Arts de Paris.

2001-2002
Residency Programme à la carte in Peru completed by two exhibitions at the Galerie L'Imaginaire of the Alliance française and at the Museo de Arte de Lima, Peru.

2006
Residency at the Espace d'Art Contemporain de la Rochelle concluded by the personal exhibition Trouble.

2013
Participation in the exhibition
Dans la ligne de mire
, at the Musée des Arts Décoratifs in Paris, France.
2017
Exhibition Interstices at the Villa Tamaris Art Center, La Seyne sur Mer, France.
2018
Fourth solo exhibition at the Galerie Papillon.

2019
Participates in Le dessin comme force d'apparition at Musée de Vence.

"She experiments with all the possibilities and draws with very unusual materials to penetrate and enter the space. She scratches, tears, rips the leaves, caresses them or brushes them with Indian ink, and stretches with extreme meticulousness the cords that she weaves or hooks." Anne Kerner, in Artvisions, May 2020
"Gaëlle Chotard draws in space by crocheting stainless steel and tinned copper wires as others prefer to weld with an arc. The technique allows her a wide margin of maneuver, so she can let her works unravel like climbing plants on the walls, between a great density and a looser mesh." Camille Paulhan, in Artpress n°476, Apr. 2020


"On the walls, sheets torn from her notebooks where she sketches abstract drawings, some of which are then transformed into installations; the lines then emerge from the walls that have become blank pages, and trees float like scores in the space they reveal."
Marie Zawisza, in L'œil n°710, Mar. 2018


Solo exhibitions
2022
Frémissements, Galerie Papillon, Paris

2018
La part de l'ombre, Galerie Papillon, Paris
Ce qui me traverse, Drawing Lab, Paris
2017

Percées
, Le Carré, Scène nationale and Centre d'art contemporain, Château-Gontier
Interstices
, Villa Tamaris centre d'art, La Seyne-sur-Mer


2016

Gaëlle Chotard, dessins, sculptures et gravures
, Les Quinconces L'Espal, Le Mans


2015

Gaëlle Chotard,
Galerie Quai4, Liege, Belgium


2014
Fixer des vertiges
, Galerie Papillon, Paris
Fixer des vertiges II
, Moments artistiques Christian Aubert, Paris
2011
À travers,
Galerie Papillon, Paris
Parallèles
, L'AGART, Amilly
2009
Particules
, Galerie Pascale Guillon, Tavel
2007
Au fond,
Galerie Papillon, Paris
Infinite landscape
, e-raum, Cologne, Germany
2006
Trouble
, Espace Art Contemporain, La Rochelle
2005
Au fond,
La Vitrine, Galerie Frédéric Giroux, proposition by Muriel Colin-Barand, Paris
2004
A l'intérieur,
Galerie Florence Loewy, Paris
2003
Galerie Florence Loewy, Paris
2002
Me llama,
Galerie l'Imaginaire, Alliance Française, AFAA, Lima, Peru
2001
Animalité à fleur de peau,
Museo de Arte de Lima, AFAA, Peru
Group exhibitions
---
2021
Patchwork, Le Radar, Bayeux

2019
Le dessin comme force d'apparition, Musée de Vence, Vence
Tisser votre mémoire, Maison des arts plastiques Rosa Bonheur, Chevilly-Larue
2018
Chimères, Galerie Neuf, Nancy
De fils ou de fibres, Abbaye Saint-André - Centre d'art contemporain, Meymac
Tension, Villa Bernasconi, Grand-Lancy/Geneva, Switzerland
Formes d'histoires, Les Tanneries centre d'art contemporain, Amilly

2017
Open Museum, carte blanche à Alain Passard, Palais des beaux-Arts de Lille, Lille
Dépaysements, l'Art chemin faisant, Pont-Scorff
Vibrations, Galerie Quai4, Liege, Belgium

2016
Nouvelles Vagues, Une commande d'art imprimé, Carré d'art de Nîmes, Nîmes
Drawing Lab, Paris
Expérience Pommery #13, Gigantesque!, Domaine Pommery, Reims
198920072016, Galerie Papillon, Paris

2015
Mabille Pierre - Liquider les contours, Villa Tamaris, La Seyne-sur-mer
Être étonné, c'est du bonheur !, Chapelle de la Visitation- espace d'art contemporain, Thonon-les-Bains
Pépites, La Tannerie à Paris
Les sièges de l'art, Guykayser, un autoportrait collectif, L'Agart, Amilly
2014

Nouvelles vagues,
L'Artothèque Espace d'Art Contemporain, Caen
A main levée, carte blanche à Frédérique Lucien, La Couleuvre, Saint-Ouen
14ème Biennale d'Arts Actuels, Maison des arts plastiques, Champigny-sur-Marne
2013
Pépites, La Tannerie in Paris
Dans la ligne de mire, Musée des Arts décoratifs, Paris
Dans la lenteur avant toute chose..., Espace ABCD, Montreuil
Arsenic et belles dentelles, Espace Maurice-Utrillo, Pierrefitte
Tresse 13 dès-tresses et délacer 13, Maison de la tresses et Lacets, La Terrasse-sur-Le-Dorlay


2012
"Chambres d'amis", La Tannerie, Bégard
Parce que la carte est plus importante que le territoire, Immanence, Paris / Fondation Louis Moret, Martigny, Switzerland
Quand les nymphes parlent des nymphes, que disent-elles? (question posée par Paul-Armand Gette), Arboretum lieu d'art contemporain, Argenton-sur-Creuse
Collection Philippe Piguet, collection d'aujourd'hui, Centre d'Art Contemporain de Saint Restitut, France

2011
Expérience 5 Faux-Semblants, Musée des Beaux-arts de Tours, Tours
Parallèles, Exposition duo avec Gilles Balmet, Galerie l'Agent, Amilly
Dessins exquis, Slick, Paris

2010
Métissage, Hôtel Hèbre de Saint-Clément, Musée d'Art et d'Histoire, Rochefort
Pierre-Papier-Litho 10 ans d'édition et d'impression à l'atelier Bruno Robbe, Centre de la Gravure et de l'Image imprimée, La Louvière, Belgium
Et si la Guirlande de Julie était en laine…, Château de Rambouillet
Carnets d'inspiration +, Musée d'Art moderne de la Ville de Paris/ARC, Paris

2009
Avoir 20 ans à voir, Galerie Papillon, Paris
Métissage, Musée Baron Gérard, Bayeux
Métissage, Musée Léon-Dierx, Saint-Denis, Reunion

2008
Fragilités, Frac Haute-Normandie, Sotteville-Lès-Rouen
Ils dessinent tous, Maison de la Cure Espace d'art contemporain, Saint-Restitut

2007
Luxe, calme et v…, La Panacée, Montpellier

2006
Métissage, Musée de Bibracte, St Léger
Christian Lacroix, Dialogue!, Reading Power Station, Tel-Aviv, Israel
Stock en stock, Aperto, Montpellier
Une Autre Histoire, Galerie Papillon, Paris

2005
Je déteste Noël, Galerie Quang, Paris
Petits formats, Galerie Quang, Paris
Christian Lacroix, Dialogue!, Musée des Beaux-Arts de Pékin, China
James H.W. Thompson Foundation, Bangkok, Thailand
Musée Ayala, Manille, Philippines
Métissage, Museo Metropolitano, Monterrey, Mexico
Foundation, Bangkok, Thailand / Musée Ayala, Manille, Philippines

2004
Christian Lacroix, Dialogue!, Musée des Beaux Arts et de la Dentelle, Alençon
L'Autre Métissage, Musée National d'Ethnographie, La Paz, Bolivia
Métissage, Museo de Arte contemporaneo, Oaxaca, Mexico

2003
Galerie Alain Gutharc, Paris
Coup de cœur, CRAC Alsace
Métissage, Château de Vogüé, Ardèche

2002
BlackBlock, Palais de Tokyo, Paris
Art vitrines, Rougier et Plé, Paris
9e édition, Fondation Coffim, Paris

2000
Stay a while, Karl-Hofer-Gesellschaft, Berlin, Germany
Visage et expressions, École des Beaux-Arts de Paris, Paris
Biennale des jeunes créateurs, Carré Sainte Anne, Montpellier

1999
Optimiste, Carreaux des Arts, Cergy-Pontoise
Architecture archéologie, Jardin de l'Abbaye de Combelongue
Se faire face, Chapelle St Louis de la Salpetrière, Paris


Public collections
---
2011
"Nouvelles vagues" (estampe), Commissioned by the ministère de la Culture et de la Communication, Centre national des arts plastiques, France

2010
FNAC, Fond National d'Art Contemporain, France

2008
FNAC, Fond National d'Art Contemporain, France


Publications
---
Métissage, realization of a work in collaboration with a lacemaker DAP/FNAC 2010
Particules, photo-lithographies, Bruno Robbe éditions, Frameries, Belgium, 2009
Créer avec, Vermeer, Warhol, éditions courtes et Longues, 2007
Créer avec, Picasso, Vinci, éditions courtes et Longues, 2006
La parure de Diane, multiple réalisé en collaboration avec Paul-Armand Gette, le Lieu Unique, Nantes, Le Livre et l'Art, Florence Loewy, galerie Agnès B, Paris 2003
Pin-up, Badges by Artists, Ed. Pierre Belouin, Emmanuel Hervé, 2003
Je veux, Ed. One Star Press, Palais de Tokyo, Paris, 2002.
La Boite, M.A Guilleminot, CNEAI, Chatou, 2001
Edition 01 No5 Kunst und Mode, 100 artistes internationaux, Manuel Bonik et Undine Goldberg, Galerie Picture Show, Berlin, 2000


Residences & Grants
---
2006
Résidence de l'espace d'art contemporain, la Rochelle, France

2001-2002
Programme à la Carte, AFAA, Peru

1998-1999
Cité Internationale des Arts, Paris

1996
Art School, Vancouver, Canada


Studies
---
1994-1998
DNSAP, École Nationale Supérieure des Beaux-Arts de Paris