JC Ruggirello
print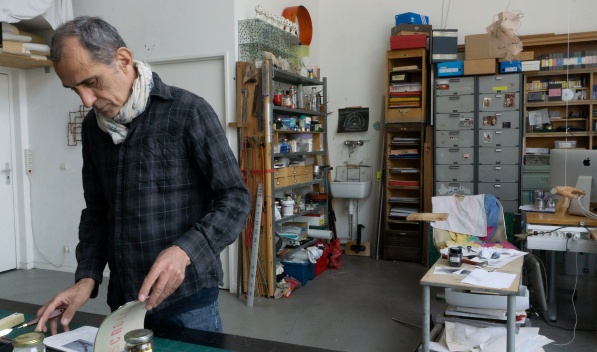 "In the beginning, my work looked for a place where disciplines telescope and try to fit together, with some successes and some beautiful failures."

JC Ruggirello is an artist for whom experiments on materials are at the origin of the work. He observes, manipulates and invents techniques that make forms appear. Objects and images take another meaning and reveal a singular sensory world.
Sculptor of objects, spaces, sounds and images, JC Ruggirello creates works that dialogue with each other despite the different textures, entering "in sympathy" according to the artist's expression.
He discovers, assembles, and unveils other dimensions of sculpture, through line and movement, skillfully tipping the established horizon.

Download the complete biography

Born in 1959, Tunis, Tunisia
Lives and works in Paris, France


Few key dates
---
1985 Diplomed from the École Supérieure des Beaux-Arts de Marseille.
1989 Wins the Fiacre's grant.
1999 Personal exhibition at the FRAC PACA in Marseille, begins in parallel to teach at the École Supérieure des Beaux-Arts, Marseille.
2001 First exhibition at Galerie Papillon.
2003 Solo Show at the FRAC Languedoc Roussillon, Montpellier.
2011 Solo show entitled Spike Wave at the Musée des Beaux-Arts, Nantes.
2013 His short, Fade, is selected for the International Rome Film Festival, and presented at MAXXI.
2016 Exhibition Fade at the Ricard foundation – 4th solo show at Galerie Papillon.

Press
---
"Jean-Claude Ruggirello has a pronounced penchant for catastrophes. Videos, assemblages, watercolors, sculptures: all the works of this polymorphous artist allude to funereal and frightful stories, mauled and pierced animals, exploding space shuttles or trees that are torn down. But Ruggirello doesn't take these accidents tragically and, far from trying to tenderize, never loses a phlegmatic, snide tone." Philippe Dagen in Le Monde, dec. 2008
" The work of JC Ruggirello is crossed by a curious, critical, resistant and lucid position towards the world, its inhabitants, both human and animal, objects and media. Ruggirello looks at the world like a sculptor but his multiform work is often situated in the field of performance, working on space, sound and presence, while practicing the art of assembly." Alain Berland, in ParisArt, 2011

Solo exhibitions
---
2022

Passage
, église Notre-Dame de l'Assomption, Valloire


2016

JC Ruggirello
, Galerie Papillon, Paris
Fade
, Fondation d'entreprise Ricard, Paris
2015
Jardins égarés,
Eglise Notre-Dame de l'assomption, Valloire
2014
La reconnaissance des lieux, École Supérieure d'Art de l'Agglomération d'Annecy, Annecy

2011
Le bel été 2011, Château de Jau, Cases de Pène
Spike Waves , Musée des Beaux-arts de Nantes
Bruits de fond
(video projection), Fondation Ricard pour l'art contemporain, Paris
2010
Bruits de fonds
(video projection), Galerie Claudine Papillon, Paris
Bruits de fonds
, selected film, Film Festival, Rotterdam, Netherlands
2008
Galerie Claudine Papillon, Paris
2006
Galerie Claudine Papillon, Paris
2004
Le Creux de l'enfer, Centre d'art contemporain, Thiers
2003
Galerie Papillon-Fiat
FRAC Languedoc-Roussillon, Montpellier
2001
Galerie Papillon-Fiat, Paris
Galerie Rebecca Container, Genoa, Italy
2000
Frac Paca, Marseille
Centre d'Art de Neuchâtel, Switzerland
1999
. IN . OUT . ,
Museum van Hedendaagse Kunst Antwerpen, MUHKA , Anvers, Belgium
Galerie Kess Van Gelder, Amsterdam, Netherlands
FRAC Provence Alpes Côte d'Azur, Marseille
CAN Centre d'art Neuchâtel, Switzerland
1998
. IN . OUT . ,
Ateliers d'Artistes, Marseille
Galerie Papillon-Fiat, Paris
1997
Galerie de Paris, Paris
Musée de Blois
1996
Petite salle, Brussels, Belgium
1994
Vitrines de l'atelier d'art contemporain du MAMAC, Nice
1993
Les amis de mes amis sont mes amis,
Galerie Latitude, Nice
1992
Galerie de Paris, Paris
Galerie Latitude, Nice
Galerie Anciens Etablissements Sacré, Liège, Belgium
1991
Galerie Interface, Marthe Carreton, Nîmes
1990
Crédac, Ivry sur Seine
Galerie de l'école des Beaux Arts, Nantes
1989
Musée de l'abbaye Sainte-Croix, Poitiers
Galerie Aubes 395, Montréal, Canada
1988
Galerie Latitude, Nice
1987
Galerie de Paris, Paris
1985
Galerie Circé Nîmes
1984
Galerie Axe Actuel, Toulouse

Group exhibitions
---
2023

Biennale éphémère #9, Chateau de Monbazillac, France
International Film Festival, Lingua Morta, Rotterdam
Experience Pommery #17: Forever, Domaine Pommery, Reims

2022
Le Champ des Impossibles
, Parcours Art et Patrimoine, Perche

2021
Des mondes à part,
Galerie Papillon, Paris
2020
Ouvrir la ruche & retenir les abeilles,
L'Atelier Blanc, Villefranche de Rouergue


2019
Par hasard, Centre de la Vieille Charité et Friche de la Belle de Mai, Marseille
Horizons d'eaux #3, parcours d'art contemporain et d'art vivant sur le Canal du Midi, Coopérative du Château, Ventenac-en Minervois

2016
Accent tonique, L'Isba, Perpignan
Sous le soleil exactement. Coucher de soleil et lever de rideau, , Centre d'art Bastille, Grenoble
Heimat-Identifikation im Wandel, Künstlerverein Walkmühle, Wiesbaden, Germany
Arbre, mon ami…, Cité des sciences et de l'Industrie, Paris
Zoo Machine, Musée d'Art Contemporain de Marseille, Marseille
Espace, Espaces!, Fondation Maeght, Saint-Paul-de-Vence
Staring at you staring at me, Amado Art Space, South Korea
198920072016, Galerie Papillon, Paris

2015

Drawing room
, Galerie L'Isba à la Panacée, Montpellier
Still Life
, Galerie Claudine Papillon, Paris


2014
Parcours de l'Art, Eglise des Célestins, Avignon
LUX! La lumière seule, Le Fresnoy, Tourcoing

2013
L'arbre ne meurt jamais, Théâtre des sablons, Neuilly sur Seine,
Arbre de vie, Collège des Bernardins, Paris

2012
Les bruits du dehors, la nouvelle scène de l'égalité, biennale du Havre, Le Havre

2011
C'est l'amour à la plage, Musée Régional d'art contemporain Languedoc-Roussillon, Sérignan
Arbre et sens, Hôtel Salomon de Rothschild, Paris
Cinéphémère, FIAC hors-les-murs, Paris

2010
Ecce Homo Ludens, Musée Régional d'art contemporain Languedoc-Roussillon, Sérignan

2009
Avoir 20 ans à voir, Galerie Claudine Papillon
Papiers, maison de la culture, Bourges
Trente millions d'amis, Ecole Régionale des beaux-arts de Rouen

2008
Ça fout les chocottes, Vallon du Villaret, Bagnols-les-Bains

2007
Sculptures 7 Paysage, Musée Despiau-Wlérick et Dubalen, Mont-de-Marsan
Il faut rendre à Cézanne, Fondation Lambert, Avignon
Acquisition 2006, Frac Aquitaine, Bordeaux

2006
Il y a de l'électricité dans l'air, Musée de Nancy
Chauffe Marcel !, La Panacée, Montpellier
Hors du champ !, Vallon du Villaret, Bagnols-les-Bains

2005
Rendez-vous en vignes, Opoul - Perillos, Chapelle Sainte Cécile de Garrieux à Salses-le-Château, Château Musée de Bélesta, Cellier Les Vignerons de Maury
Gestes, traces et autres signes, Fonds régional d'art contemporain, Provence, Alpes, Côte d'Azur, Centre international d'art contemporain, Château de Carros
Collection FRAC Bourgogne, Dijon
Galerie Claudine Papillon, Paris

2004
Trois Artistes, un été Bossut.Morellet.Ruggirello, Les sables d'Olonne
Extra, Swiss Institute, New York, USA
Creux de l'enfer, Centre d'art contemporain, Thiers
Wurst Eigenhaut special Nr. 3, Galerie van Gelder, Amsterdam, Netherlands

2003
La BF 15, Lyon
Galerie Donzévansaanen, Lausanne, Switzerland
Travailler fatigué, FRAC Languedoc-Roussillon, Montpellier
Galerie Papillon-Fiat, Paris
Collections sans frontières, Galeria Civica d´Arte Moderna e Contemporanea, Turin, Italy

2002
Fresh !, Musée d'art de Macao, Macao, China
C'est pas du cinéma, Studio National, Le Fresnoy
Nous tournons en rond, FRAC Bourgogne, Dijon
Mesure démesure, Galerie Poirel, Nantes

2001
Bricolage, Musée des Beaux-Arts, Dijon
De Keeshond hapt, Biennale Leuven, Belgium
Untitled, (anciennement Mayday), Swiss Institute of Contemporary Art, New-York, USA
Biennale d'Alexandrie, Egypt

2000
Mises en Jeux, FRAC Bourgogne, Dijon
Galerie Rebecca Container, Genoa, Italy
White Chapel Art, London, UK

1999
Galerie Papillon-Fiat, Paris
L'Art c'est l'Art, Musée d'Ethnographie, Neufchâtel, Switzerland
OO, Galerie Kess, Van Gelder, Amsterdam, Netherlands
Mayday, Centre d'Art Contemporain, Neufchâtel, Switzerland
Galerie Riis, Oslo, Norway
Groepstentoonstelling Galerie van Gelder, Amsterdam, Netherlands
Flash, Birfrons Fondation, Stedelijk Museum, Amsterdam, Netherlands

1998
Ouverture 3, Château de Bionnay, Lacenas
Losse Werken Rake Klappen, Galerie van Gelder, Amsterdam, Netherlands
Le dessin en procès, La Box, Château d'eau, Bourges

1997/1998
Entre mémoire et histoire, Les Rencontres, Arles

1997
Single answers for no questions, Galerie van Gelder, Amsterdam, Netherlands
Reposer La Bonne Question, Interface MMM, Marseille
Lost and found, Maastschappij voor en nieuwe media, Amsterdam, Netherlands
Galerie de Paris, Paris
Musée de Blois, Blois

1996
Espace de l'Art Concret, Mouans Sartoux
Galerie Nouveaux Etablissements Sacré, Liege, Belgium

1995
Dossier de presse I, Galerie de Paris, Paris
Dossier de presse II, Galerie de Paris, Paris
Rencontres du troisième type, Galerie Roger Pailhas, Marseille

1994
Espace d'art moderne et contemporain de Toulouse

1992
Vertige de la connaissance, musée de Toulon

1991
Multiples Uniques, Galerie Sacrée, Liege, Belgium
Dessin-Dessein, Musée des Beaux-Arts, Mulhouse
Vis-à-vis, le miroir des galeries, Galerie Sacrée, Liege, Belgium
Transat, Fondation San Telmo, Buenos Aires, Argentina
Animaux, Galerie de Paris, Paris
Sculpture 4, Galerie Debras Bical, Brussels, Belgium

1990
Galerie La Main, Brussels, Belgium
Galerie Christine Debras, Yves Bical, Brussels, Belgium
IFP, Latitude, Nice

1989
Solex nostalgie, Fondation Cartier, Jouy-en-Josas
Images de l'art français, Esther Shipper, Moscow, Russia

1988
1, 2, 2, 2, 3 partez, Galerie de Paris, Paris
Objetos y realidad, vision del arte frances, Interarte, Valencia, Spain
Ateliers internationaux des Pays de la Loire, Abbaye Royale, Fontevraud ; La Garenne Lemot, Clisson
Les Dechargeurs, Fonds Régional d'Art Contemporain, Marseille

1987
Machines affectées, Musée des Sables d'Olonne - Galerie Axe Actuel, Toulouse
- Galerie de Paris, Paris - Le Musée Denys-Puech, Rodez Avant Travaux

1986
Galerie de Paris, Paris
Identité Marseille, Vieille Charité, Marseille
Perfo 4 Lantarem, Rotterdam, Netherlands
Haben und halten, Speicherstadt, Hambourg, Germany
Machines affectées, Renaissance Society, Chicago, U.S.A.
- Musée de l'abbaye Sainte-Croix, Poitiers - Nexus Center Atlanta, Etats-Unis - Musée des Arts du Bronx, New York, U.S.A.

1984
Künsterhaus, Hambourg, Germany

1983
Im Theater, Büro Berlin, Berlin, Germany
Köln-Genova-Paris, Cologne, Germany

1982
L'après-midi, Fondation nationale des Arts graphiques, Paris


Collections
---
Les Abattoirs, Toulouse
Cnap - Fonds national d'art contemporain
Frac Provence-Alpes-Côte d'Azur
Frac Occitanie Montpellier
Frac Bourgogne
Frac Nouvelle-Aquitaine MÉCA
Frac Corse
Frac Franche-Comté
Musée d'art contemporain Marseille
Musée d'arts de Nantes
Musée des Beaux-Arts de Rennes
Fonds communal d'art contemporain, Marseille


Teaching
---
Depuis 1999
École supérieure des Beaux-arts de Marseille


Studies and Grants
---
1989
Bourse Fiacre

1985
École supérieure des Beaux-arts de Marseille

1981
Hochschule für Bildende Kunst, Hambourg, Germany