Elsa Sahal
Elsa Sahal des origines à nos jours
From March 17 To May 5 - 2018
print
Download press release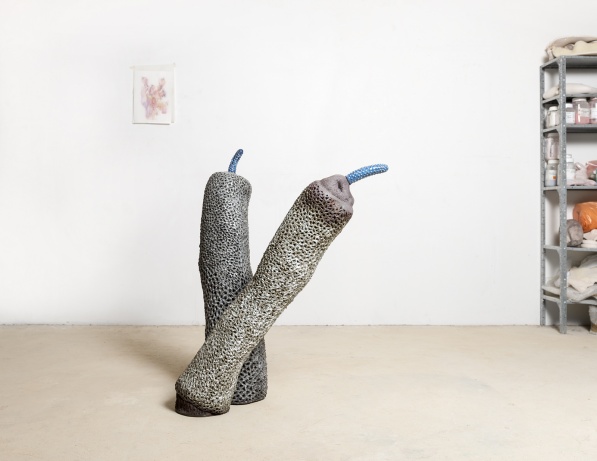 © Pierre Antoine



"Elsa Sahal des origines à nos jours"
Curator :
Gaël Charbau
March 17 - April 28, 2018
Opening March 17, 3 - 8pm
I must have known Elsa Sahal for more than fifteen years now. I have always seen her call her sculptures by their names, and develop a kind of family relationship with them – when she talks about them, it sounds as if she is speaking of an old uncle or great-cousin. Like any family, this one includes great figures, disturbing characters, exotic members gone wild, and the latest additions, who leave older members of the family wondering what to do with them because they seem so unruly and rebellious. A whole progeny born of the same soil. It is probably needless to emphasize how soil is the raw material of existence, whether considered from a religious or a scientific point of view: as soon as you engage with it, the plasticity of soil immediately projects you into the complex insanity of life.
When looking at the work of Elsa Sahal, no need to be a master of psychoanalysis to realize that you are facing the many expressions of a grammar of eroticism. While the presence of "caves" – which the artist spent many years creating – was only a hint, the multiplicity of excrescences and orifices, figures either penetrating or offering themselves, glistening or soiled, muscular and mucous, should be enough to convince you.
This is a language whose rules all celebrate proliferation, a sort of sampled repetition of what the world constantly offers to our eyes, when we look at flowers, plants, fish, insects, and at ourselves, actors and voyeurs of this wide-spreading debauchery. All around this rubbing and fondling, the artist has created a sort of theatre: you may encounter a group of isolated flowers, a lonely nude, a waiting organ. Forms of life which implicitly suggest an action about to happen, or another world which we need to invent. What are these strange plants growing on? What is the matching piece to these cosy lips? Not all figures have their other, not all pairs are systematically formed, for a lifetime wouldn't be enough to copy the beloved. But just like in a play, they all seem to have a raison d'être in the scene. If this reason escapes us, it is because we are not aware of the full genetic programme: we are not in the artist's head, but rather among the visible effects of what she has made manifest. Each exhibition should thus be considered a special ceremony, a way of making things that would generally be hidden parade before us. The "Fountain" that was displayed in the Tuileries Garden during the Fiac in 2012 – actually a headless, pissing female figure standing on two barrels adorned with corals – was a proof of this, offered to a wide audience.
The ceremony hypothesis is reinforced, I believe, by the fact that Elsa has developed, alongside her ithyphallic or fertile figures, some kinds of accessories which seem to live autonomously, in symbiosis with the body that carries them. Strange bolts, corals, woollen hair or cast glass shellfish have grown all along the sculptures; they always have. Are they attributes whose functions are hidden from us? Accessories convened for the ritual of firing, which freezes sculptures forever, the same way someone accompanies the deceased to the other side of the river? Firing is a paradoxical step indeed: it both completes and kills the sculpture; it is the prerequisite for its life and, at the same time, destroys any possibility of evolution. "Eroticism,it may be said, is assenting to life up to the point of death"(1) Georges Bataille wrote.
In what she shows us, behind enamels to which she gives vibrancy using bursts of colours, as if to better laugh at them, Sahal conveys the whimsical nature of existence, of which we are only vehicles. We accompany this life as mere tenants, coated with matter and pressed to the ground by gravity – the only weak point of clay. Sahal sometimes tried to abolish it – in the Chapelle du Genêteil, in 2016, she suspended her works in the air.
In this new exhibition at the Galerie Papillon, the sculptures seem to come out of the ground. From the artist's unconscious to our line of sight, "on the flat, empty plain, under a starless night as thick and dark as ink"(2), since from the origins to the present day, we have always returned to the earth, having sometimes encountered love along the way.
Gaël Charbau


Elsa Sahal
– Born 1975 in Bagnolet. Lives and works in Paris.
Sahal graduated from the École Nationale des Beaux-Arts de Paris in 2000. In 2007, she did a residency in Sèvres, which allowed her to develop an enamelling practice involving high temperature firing.
In 2008, the Fondation d'entreprise Ricard hosted a solo exhibition of her work, and she won the MAIF prize for sculpture. In 2009, she was a Visiting Professor at Alfred University, New York State College of Ceramic. She also taught at the École des Arts Décoratifs de Strasbourg from 2005 to 2012.
During a residency at the Archie Bray Foundation in Montana in 2013, she further explored firing techniques, producing new forms with cleaner lines. That same year, her works were shown as part of the exhibition
Body & Soul: New International Ceramics
at the Museum of Art and Design in New York.
In 2014, Sahal presented monumental reclining nudes at the Festival International d'Art de Toulouse. In 2015, she took part in the
Ceramix
exhibition at the Bonnefantenmuseum in Maastricht and la maison rouge in Paris in 2016.
In 2017, her work was presented in several exhibitions:
Women House
at the Monnaie de Paris and the National Museum of Women in the Arts in Washington (2018);
Les retrouvailles
, Musée des Beaux- Arts de Brest, France; POINT QUARTZ
Flower of Kent
, Villa Arson – Nice, France;
Surreal House
at the gallery The Pill, Istanbul.
For the works including glass parts, those elements were made within the framework of a project selected by the commission mécénat of the Fondation Nationale des Arts Graphiques et Plastiques, which provided support for it.
(1) Georges Bataille,
Erotism
, San Francisco: City Lights Book, 1957, 1986, translated by Mary Dalwood, p. 11.
(2) Emile Zola, the first words in
Germinal
, 1885.