Gaëlle Chotard
La part de l'ombre
From October 13 To December 1 - 2018
print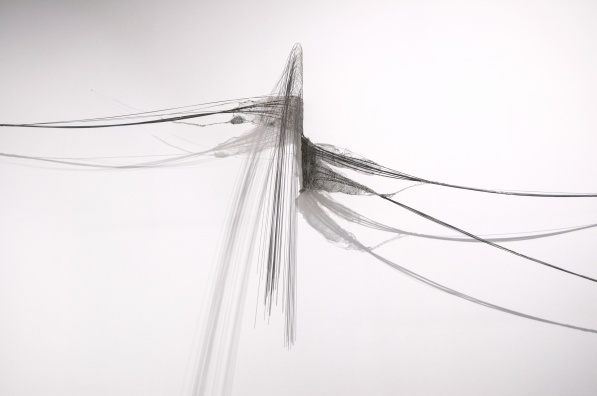 Gaëlle CHOTARD
La part de l'ombre
October 13th – December 1st 2018
Opening - Saturday October 13th, 3 – 9.pm
"In her studio, Gaëlle Chotard says that during her training at the École des beaux-arts in Paris, she wanted to work in the metal workshop. However, she had a hard time fitting in there on a technical and human level. An excess of domination and demonstration would lead her to approach the metal in a different way [...] The knitting involves long hours of work and a specific concentration. It also generates a state close to what we can reach through meditation or hypnosis [...] Gaëlle Chotard explains that she immerses herself in the material, in the form that is taking shape, but also in her own body."
Julie Crenn (extract)
Gaëlle Chotard - born in 1973 in Montpellier, lives and works in Nogent-sur-Marne.
Gaëlle Chotard graduated from the École des beaux-arts in Paris in 1998. She has participated in numerous solo and group exhibitions, most recently at the Carré d'art in Nîmes, at the Domaine Pommery in Reims, at the Palais des Beaux-Arts in Lille and at the Villa Bernasconi Grand-Lancy/Geneva. She has produced in situ works for the Château de Rambouillet and for the Musée des Arts décoratifs in Paris for the exhibition "Dans la ligne de mire".
In 2017, she exhibited at Espar in Le Mans, at the Villa Tamaris with "Interstices" and at the Chapelle du Généteil (Le Carré, Scène nationale-Centre d'art contemporain in Château-Gontier) which published Gaëlle Chotard, Dessins 2007-2017 proposed by Bertrand Godot.
In 2018, she was selected together with curator Valentine Meyer to submit a proposal to the Drawing Lab, a new Parisian venue dedicated to contemporary drawing. Gaëlle Chotard's works are present in the collections of the FRAC Haute-Normandie and the FNAC.
Her 3rd exhibition, "Fixer les vertiges", was held at the Galerie Papillon in 2014.